Why do we collect mini helmets?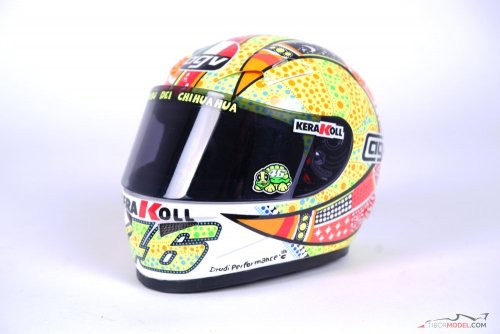 Why do we collect mini helmets?
Collecting mini helmets is the latest trend among collectors of model cars and Formula 1 racing memorabilia. Helmets are popular because almost every F1 fan has a favorite driver, and of course he drives in a helmet with an identifiable design. Having a half-scale helmet of your favorite driver at home is an expression of sympathy as well as fan status.
What exactly is a mini helmet?
A collector's item created on the basis of a real helmet of a specific driver in a scale of 1:2, i.e. in half the dimensions of a real helmet. The approximate dimensions of such a modern mini helmet are 17x13x12 cm (L-W-H). These helmets also have an opening visor, aero accessories and an interior similar to the real helmets. The shell is made of harder plastic, the visor is made of plastic, the edges are treated with a rubber strip.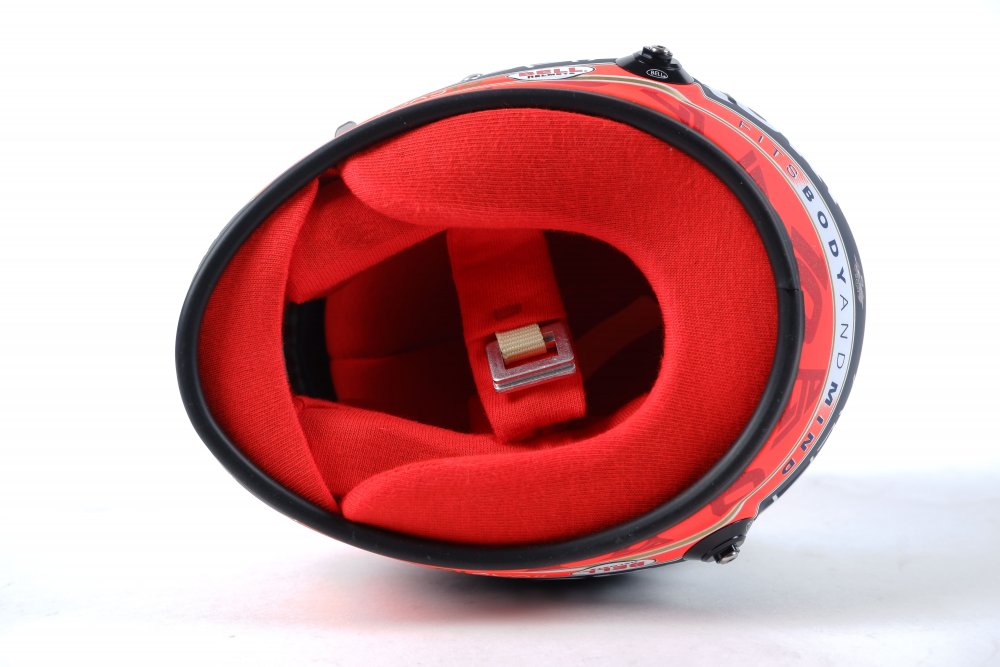 Let's look at the different aspects:
 Advantages of collecting helmets:
 Relatively small demand for space
 Easy to clean from dust, does not contain any small fragile parts
 Growth in the value of some limited editions
 At least 16 different drivers of the current season have issued mini helmet
 No special maintenance is required
Disadvantages of collecting helmets:
 They do not contain all the exact details (real air vents (holes), colored tear-offs, electronic) like real helmets
 Very limited offer and harder availability of Arai brand helmets (e.g. Ricciardo's, Vettel's helmets)
 Many times missing sponsorship signs (not just tobacco ads)
 A narrow selection of historic helmets of legendary drivers (Prost, Lauda, ​​Stewart, Clark, etc.)
Real and mini helmet presented by Max Verstappen
What we know about the manufacturers:
Bell, Schuberth, Arai and Stilo are currently suppliers of helmets in F1. Usually, each driver has a signed contract with a company for a certain period, during that he drives with the helmet of that company. The American company Bell has, for example, contract with Norris, Hamilton, Leclerc, German company Schuberth supplies Verstappen, Perez, Mick Schumacher, Japanese company Arai supplies Ricciardo, Vettel and Italian Stilo supplies Bottas and Stroll.
Bell and Schuberth offer the widest range of mini helmets on the market, which is due, among others, to their own production line for these items. Stilo and Arai brand products are very rare, produced only in limited quantities for certain markets.
A short video about the production of Bell helmets:
Where should the mini helmets be displayed?
There are no limits to creativity at all, because the helmets fit in a relatively small space in the apartment. A favorite place is the living room furniture or the shelf above the TV. Freestanding display cases can be a great solution if you plan to expand your collection. If you prefer separate, smaller display cases, showcases in versions for 1 helmet or 2 helmets are available. They are available in one variant with a black glossy base and an acrylic top.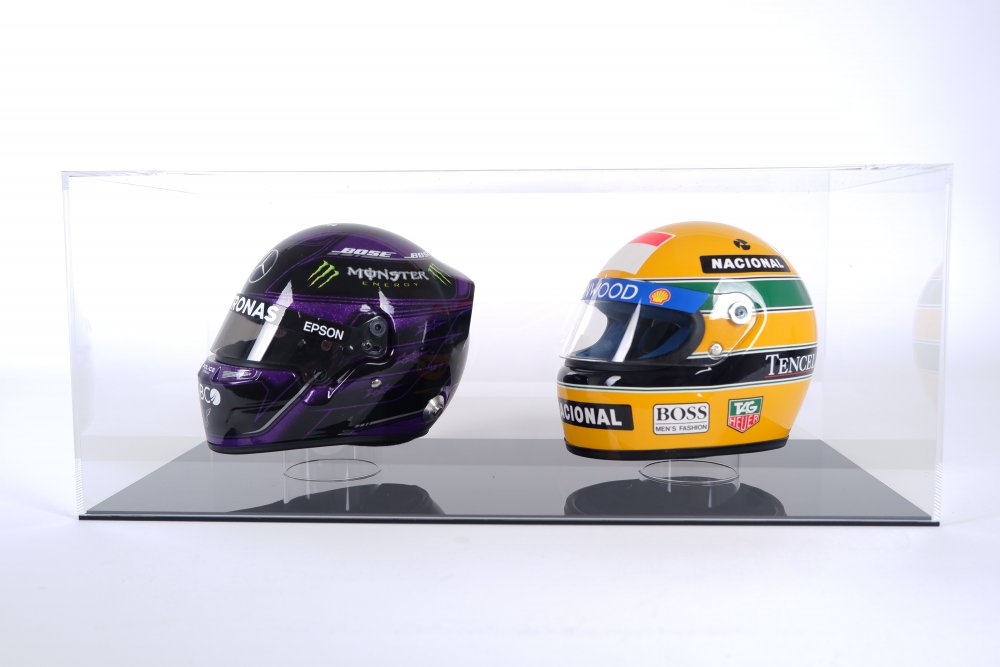 An increasingly large group is made up of collectors who prefer to display the helmet next to the 1:18 scale race car model. The basic motive of these collectors is completeness, i.e. to have a car model with a driver figure in the collection and, next to the model, an identical helmet in a scale of 1:2. Showcases that already have a built-in cylinder for placing a helmet are designed for this purpose.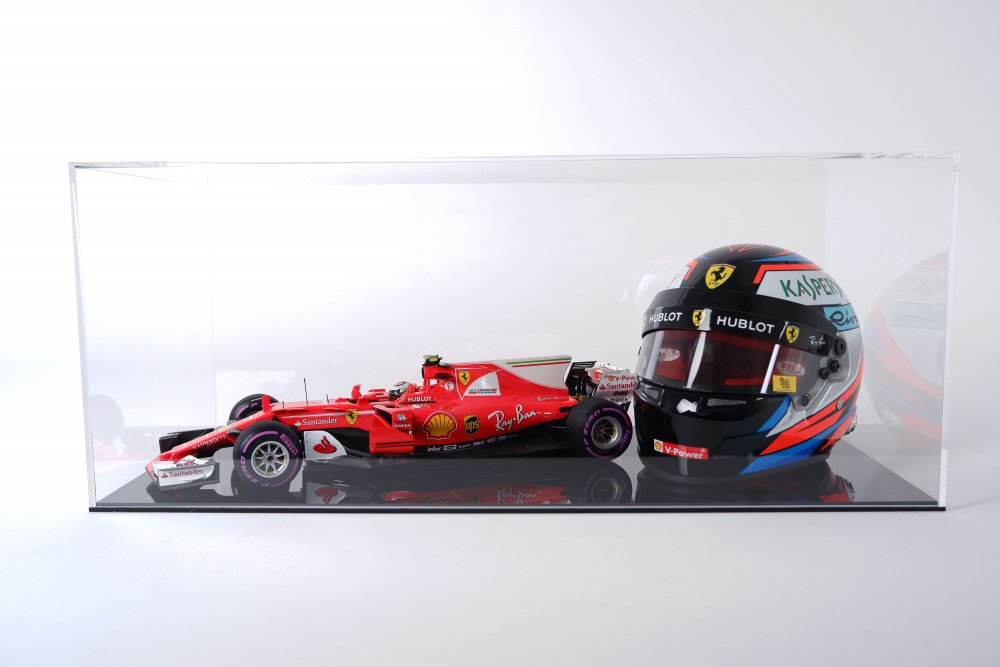 How to prevent damage to the helmet?
The greatest enemy of all collectibles is direct sunlight. You should definitely not expose helmets in places where the sun's rays fall for a long period of time. It is not a good idea to display a helmet on a window sill or on the dashboard of a car. It is ideal to have it displayed in a showcase or on a shelf away from sunlight and away from a heat source. In the vicinity of a radiator or other heating element, sensitive parts can be easily damaged (breakage of glued joints, deformation of the visor and bubbling, etc.)
The collectible mini helmet is a great collectible for every age category, for both male and female audiences as well as for people who care about uniqueness and new trends. We are glad that we can deliver these beautiful pieces to distant countries and we are proud of that we have the widest range in CEE markets. We believe that you will find the mini helmet of your favorite driver at the tibormodel.com webshop.