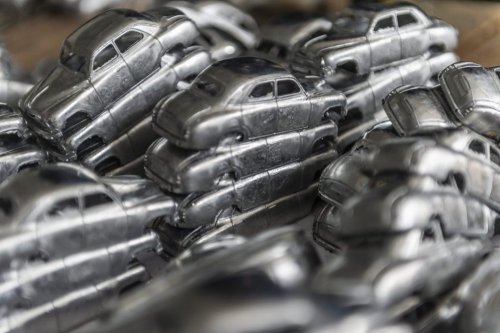 Many of collectors ask whether to choose a model made of metal or resin. In practice, this is a very complex topic to which there is no clear answer. This topic is in comparison may be the same as the dilemma of "what was before, the hen or the egg" or whether to buy a gasoline, diesel or electric car. It´s an endless discussion between collectors with many pros and cons.
First we have to explain the basic concepts (elements): 
metal model – a model, basic part of which is usually cast from an alloy of 3 metals, that are zinc, aluminium, and copper. It´s professionally called die-cast.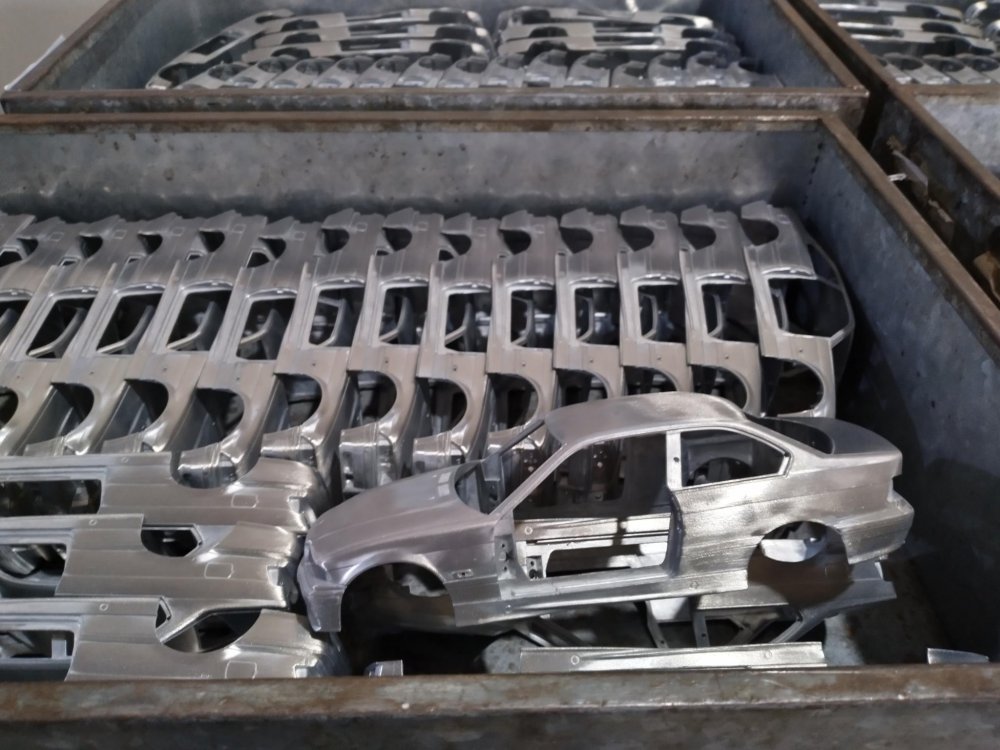 Resin model – model, basic part of which is cast from synthetic (epoxy) resin.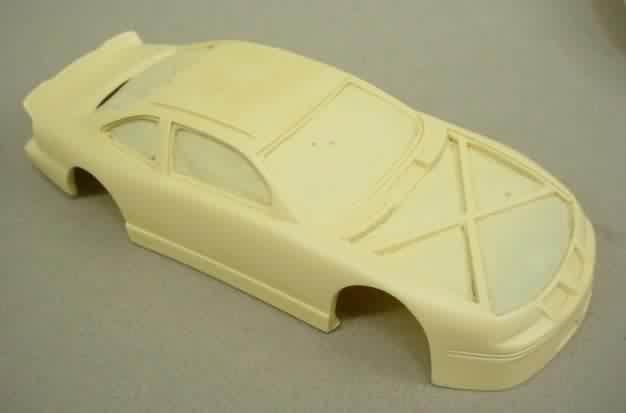 Weight: 
In practice, the metal model is heavier than the resin model, and this feature is important to many collectors because it evokes a subjective impression of higher value. This is also one of the reasons why manufacturers supply metal models mostly without a base. Resin models are almost always delivered on bases designed for a given model, even with a description or plaque. It is the weight of the base together with the model that tries to balance the impression of a heavier model with metal models. These pedestals can be unscrewed and the model can be displayed without a pedestal, according to the collectors own taste.. 
Fragility:
Resin models are very fragile in nature, so these models need to be handled very carefully because fragile parts tend to break off. Also for this reason, resin models do not have openable parts. In case of metal models for e.g. of Formula 1, the base of the body from the front to the rear wing is made of metal (cast), and other components such as the front wing, rear wing, axles, etc. are made of plastic (depending on the manufacturer and type of model). It is practically impossible to break off metal parts, but all additional plastic parts however are brittle, but clearly stiffer than resin parts. 
Color and varnishing: 
In the case of metal models, the paint needs drying in a high temperature oven for proper curing and the resulting gloss. However, this method is only applicable to metal models, as resins would deform due to higher temperatures. The methodology of painting resin models consists in the use of a special clear coating, the weak side of which is that it cannot copy the properties of the paint of the real original, therefore the final model may appear too shiny.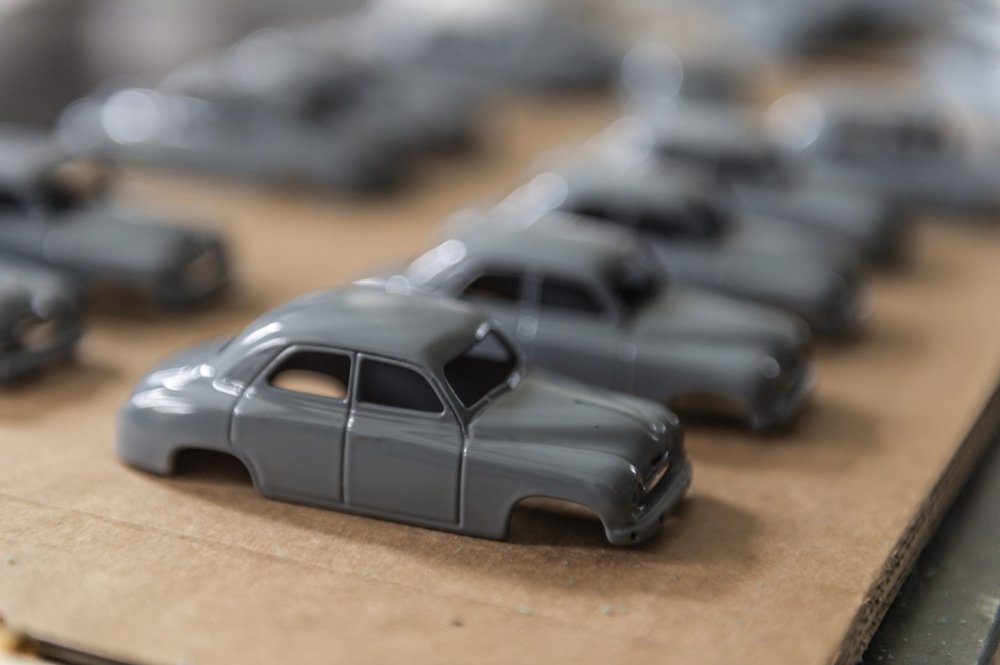 Details: 
As with all models, a basic form is required, as is the case with two of our research areas. In the case of resins, these are elastic molds made of silicon yarn, silicone rubber and caoutchouc. It is this mold that can capture a huge amount of detail (complex lines, contours, joints) that steel molds - which are designed for metal models - simply aren´t able.
Design (pad printing and stickers)
Pad printing is applied only to metal models. Examples of pad printing are e.g. Ferrari Fomula 1 models from Bburago. Water stickers are very common in the case of metal and resin models. Characteristic attribution of pad printing is that it is more durable and is applied directly to the model, so in practice it is impossible, e.g. scrape off the surface. The stickers are quite different in terms of application, the material and the final effect. The disadvantage is that after a few years (depending on the conditions) they start to age, turn yellow, crack, peel off and fall off the surface of the model. They can be scratched by the nails, that leads to aesthetic deterioration. However, the advantage is a relatively simple application even for a beginning modeler. At present, manufacturers such as Spark, Minichamps and GP Replicas supply a set of stickers with tobacco advertisements for the models, that everyone can apply to the model according to their own taste, which is an advantage for most F1 model collectors, as they can have a model complete with tobacco descriptions, according to the original look of the car.  
Price
Model prices are based on various factors, those of course include the material from which they are made, but it is not possible to clearly classify based on our researched criteria. E.g. the 1:18 scale Formula 1 model from Spark manufacturer the resin model costs € 159.95, the same model from the Minichamps manufacturer made of resin costs € 189.95. GP Replicas releases only resin models at a price level of € 220. The same model from CMC or Exoto made of metal ranges at a price level of € 300-500. It is also clear from these examples that, on the basis of the selling price, it is not possible to define that one would be cheaper or more expensive, because many inputs enter this equation, from licenses, through cost, to demand. 
Availability
The most important research area of all listed is availability, as not every specific model is released in resin and metal versions. Rather, it can be stated that there are very few models on the market that have been released and manufactured from both materials. This fact will subsequently force the collector to buy a resin model for the metal collection, because he has no other choice. And vice versa. 
The conclusion of this analysis can only be the subjective beliefs of each reader/ collector. Ultimately, it is a legitimate decision for every collector to put a resin or metal model in the display case, because there are more important facts above these, and that are the emotions, joy and memories that these models evoke in all of us. 
In this short video you can see the production process of the model of Formula 1, RedBull RB7 from Minichamps: 
(source:www.abrex.cz, images:internet, video:youtube.com)